END Randomness!

~K
Do any of you play Mario Party? Or at the very least know the sound that Yoshi makes? No, Well....we were playing mario party the other night and Lindsey is of course yoshi, right. Well she got a star and he made a really funny noise...."Buggidy buggidy BOOOOO!!" Well anyway I said, without missing a beat, "You think that's the noise he makes when he gets laid?...*arms in the air* BUGGIDY BUGGIDY BOOOOOOO!!!!!!"
And then later Lindsey called and we all went out grabbed a bite to eat and laughed went for a walk, to the store, and then headed back to her house. Where we met up with Chris and played an amazing game of Mario Party!
Sorry it's not a little more descriptive but ehh... pretty tired and gotta work tomorrow. Oh I almost forgot the pics of the git I made for Sondra!
It's a basket that I made, the contents are...
1.The free gift from Clinique
2. A foundation brush with cleaner
3. two small boxes of chocolate
4. A journal
5. A Makeup case
6. And The fourth season of Reba
Its all in a really cute photo box that i found that would make a wonderful and perfect baby memory box!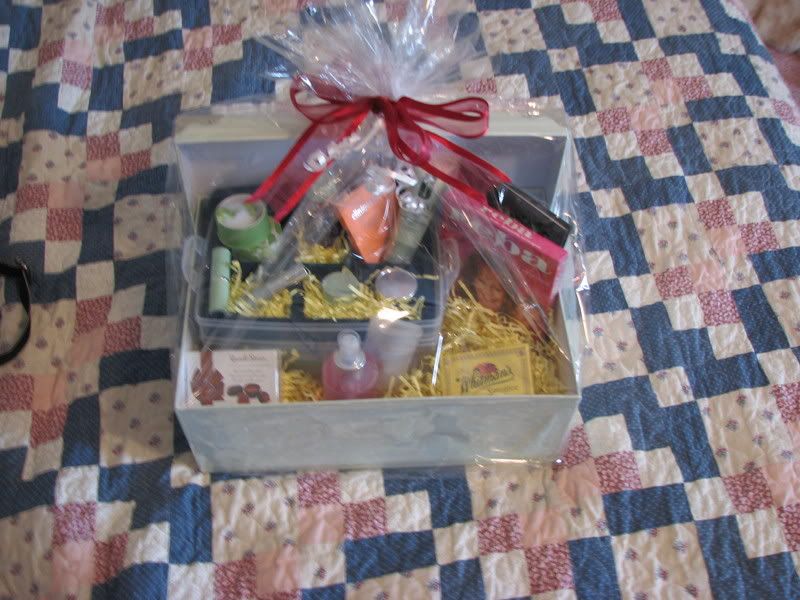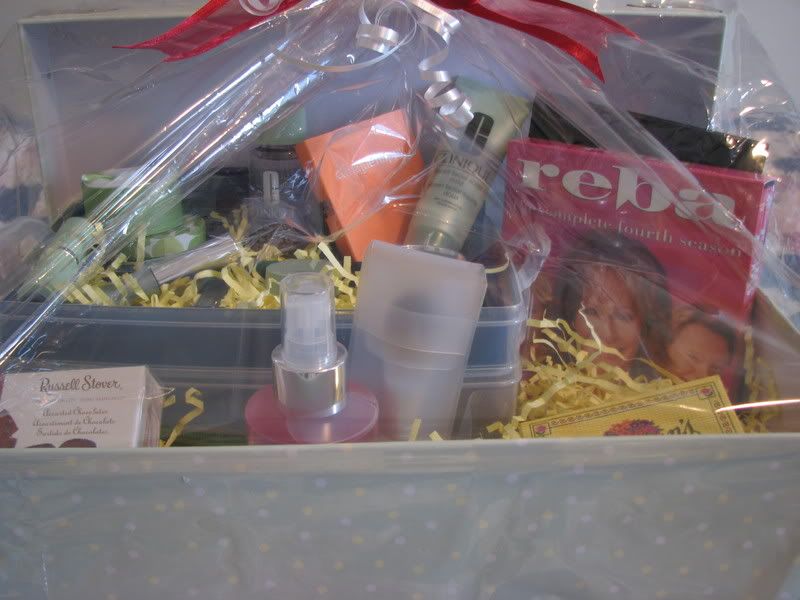 Oh friends, today was a great day off. I finished Sondra's gift for out anniversary, pictures of it to follow. I also had lunch on work, then came home and worked out on the wii fit for about a half hour, that made me feel great.
But I just found the winners of the 2008 FiFi awards...the FiFi awards are held annually where the international fragrance community, designers and celebrities from the fashion, theatre, film, or television industries select fragrances to be entered into the fragrance hall of fame.

Night
~K


So me and Sondra are about 15 weeks along, so you know what that means right?! Just five short weeks till we find out the sex of the baby! We are both just so excited. Also we are getting our debt paid off and then the next step will be house!

Work is going about as great as an iceberg in a desert! I swear to Peat that I am this close to slapping the ghetto out Lisa! She keeps stealing my sales and causing me to just miss my goals for the day. So the next time Cindy comes up to me and asks why we aren't making goals I think I'll tell her, "well I might make my goals if people who weren't scheduled didn't come in and steal my sales!"

I mean WTF I don't go up to HER counter and show MY fragrances! Oh well, I'll see what happens tomorrow when I talk to Angela about it. I'll keep you posted, about everything...Work, baby, house hunting, and wedding paining.

Night ~K
...It's been awhile since I have been on LJ , about two years actually.